HUMATROPE®
[SOMATROPIN (rDNA ORIGIN) FOR INJECTION]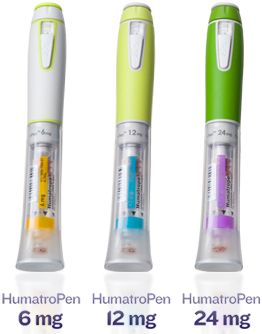 About Humatrope®
Humatrope® is a brand of growth hormone made by Eli Lily and Company. It is used to replace the growth hormone that is missing in a person's body. Humatrope ® is currently FDA-approved for treating children with growth failure due to growth hormone deficiency (GHD), Turner Syndrome, idiopathic short stature (ISS), SHOX deficiency, and small for gestational age (SGA). In adults, Humatrope® is approved for GHD.

Humatrope ® is given as an injection. When you order Humatrope ®, OceanBreeze Healthcare will supply you with all the necessary supplies you would need to administer the Humatrope®.
What form is Humatrope® currently available?
Humatrope® is currently available in 2 forms: a dry powder vial and premixed cartridge. Each vial contains 5 mg of active drug. The vial needs to be reconstituted, or mixed with the diluent (the clear liquid solution) provided in the samebox as the drug vial. Cartridge is available in 6mg, 12mg, and 24mg strength. Each cartridge must be used with the respective HumatroPen® to assure proper delivery ofmedication.
What are some potential side effects of Humatrope®?
Humatrope® is generally well tolerated. While unlikely, potential side effects include injection site reaction, such as rash, redness or bruising, andheadaches. Some may experience symptoms of swelling, joint pains, or high blood sugar. Those with diabetes or impaired glucose tolerance should be monitored closely for risk of high blood sugar during Humatrope® therapy. If you are experiencing any unwanted side effect(s), contact your doctor or pharmacist. You may also report the side effect(s) to the FDA at
www.fda.gov/medwatch
, or call 1-800-FDA-1088.
How do you administer Humatrope®?
Humatrope® needs to be injected subcutaneously in order for the medication to work.

For Cartridge:
HumatroPen® is an injection pen that is specifically designed for Humatrope® cartridge. For more information on the HumatroPen®, please readthe patient administration information (HumatroPen 6 mg, HumatroPen 12 mg, HumatroPen 24 mg, Humatrope Patient Cartridge Instructions).
How do you store Humatrope®?
Humatrope® must be stored in the refrigerator (at 2 – 8° Celsius) at all times.
How long does Humatrope® last?
Humatrope® is stable and last until the indicated expiration date before opening when stored in the refrigerator.

For Cartridge:
Each cartridge of Humatrope® may last for several injections depending on the prescribed dose. Once the cartridge has been opened, it is stable upto 28 days.
How do you mix Humatrope®?
For vials, Humatrope® needs to be mixed with the provided diluent before injection. For instructions on how to mix the Humatrope®,please read the instruction manual (PDF: Humatrope Vial Instructions 8_2011). For cartridge, Humatrope® is mixed using HumatroPen®. For instructions, please read cartridge manual HumatroPen®. For instructions, pleaseread the corresponding cartridge manual ( HumatroPen 6 mg, HumatroPen 12 mg, HumatroPen 24 mg, Humatrope Patient CartridgeInstructions).
Is there preservatives in the Humatrope®?
Yes, Humatrope® contains metacresol and glycerin.
How often do I take the Humatrope®?
You should take the Humatrope® exactly as prescribed by your doctor. In general, Humatrope® is given as a once-a-day injection.
Manufacturer Website



http://www.humatrope.com
Information on this site is provided for informational purposes and is not meant to substitute the advice provided by your own physician or other medical professional. You should not use the information contained herein for diagnosing or treating a health problem or disease, or prescribing any medication. You should read carefully all product packaging. If you have or suspect that you have a medical problem, promptly contact your health care provider. Pursuant to 21 U.S.C. § 333 (e) (1), which limits usage only to the treatment of disease or other recognized medical conditions authorized by the Secretary of Health and Human Services, Ocean Breeze Healthcare does not dispense human growth hormone for anti-aging, cosmetic or performance enhancement purposes.