SUPPRELIN® LA
[HISTRELIN ACETATE FOR SUBCUTANEOUS IMPLANT]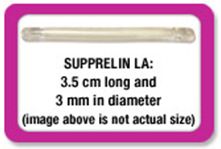 About Supprelin LA
Supprelin®LA is a luteinizing hormone-releasing hormone (LH-RH) agonist made by Endo Pharmaceuticals.

It inhibits gonadotropin hormone secretion and regulate the overabundance of certain hormones that cause premature puberty.

Supprelin®LA is currently FDA-approved for treating children with central precocious puberty (CPP).

Supprelin®LA is given as an implant under the skin at the doctor's office. When you order Supprelin®LA, Ocean Breeze Healthcare will supply all the necessary supplies needed.
What form is Supprelin®LA currently available?
Supprelin®LA is currently available in 50 mg control-released implant packed into a kit.
What are some potential side effect of Supprelin®LA?
Supprelin®LA is generally well tolerated. Some possible side effects include incision site reaction, such as rash, redness or bruising. This should go away within 2 weeks. Some children may experience symptoms of puberty initially after receiving Supprelin®LA. However, these signs of puberty will stop within 4 weeks. If you are experiencing any unwanted side effect, contact your doctor or pharmacist. You may also report the side effect to the FDA at
www.fda.gov/medwatch
, or call 1-800-FDA-1088.
Who should NOT use Supprelin® LA?
Supprelin® LA should be avoided if you have a history of allergy and/or hypersensitivity to GnRH, GnRH-analogs, or to any other component of the formulation.
How do you administer Supprelin®LA?
Supprelin®LA implantation is a surgical procedure and should be administered by a physician. The doctor will make a small incision in your child's upper arm, and the implant will be placed under the skin. Once Supprelin®LA is implanted, the incision site will be closed with surgical strips and bandages. Be sure to keep the bandage dry (avoid bathing or swimming) and do not remove the bandages for at least 24 hours after the procedure to assure that the incision site heals properly.
How do you store Supprelin®LA?
Supprelin®LA should be stored in refrigerator in its original packaging.
How do I care for the incision area once Supprelin®LA is implanted?
Do not remove bandage and keep the arm clean and dry for at least 24 hours after implant. Do not remove the surgical strips as they will falloff by itself in few days. Avoid vigorous exercise or play for few days to ensure the incision site heals properly.
Is there preservatives in the Supprelin®LA?
No, Supprelin®LA does not contain any preservatives.
How often do I receive Supprelin®LA?
Your doctor will determine if you need to renew your Supprelin®LA. In general, a new Supprelin®LA is implanted once-a-year.
Manufacturer Website



https://www.supprelinla.com/
Information on this site is provided for informational purposes and is not meant to substitute the advice provided by your own physician or other medical professional. You should not use the information contained herein for diagnosing or treating a health problem or disease, or prescribing any medication. You should read carefully all product packaging. If you have or suspect that you have a medical problem, promptly contact your health care provider. Pursuant to 21 U.S.C. § 333 (e) (1), which limits usage only to the treatment of disease or other recognized medical conditions authorized by the Secretary of Health and Human Services, Ocean Breeze Healthcare does not dispense human growth hormone for anti-aging, cosmetic or performance enhancement purposes.